All Sauces, Dough, Meatballs and Menu Items Prepared Fresh Daily
Now Serving Wine and Beer!
Mama Mia Pie & Pasta – Pizzeria & Restaurante
Come experience the new Mama Mia Pie & Pasta – bringing the unforgettable experience of authentic, handmade Italian foods and beverages to the heart of Elkins, WV. We invite you to experience the age-old tradition of our classic Italian recipes.
Tuesday
Large Cheese Pizza
w/ One Topping
$10.00 plus tax
(Take-out & Cash Only)
Lunch Special
Tues. – Fri., 11 am to 3 pm
Any 2 Slices of Pizza
& Large Soft Drink
$7.99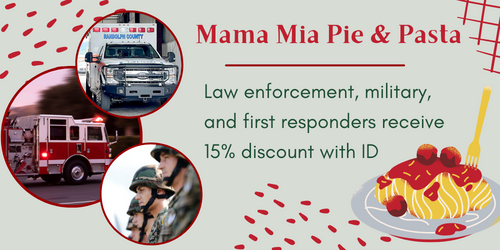 Dine In
Take-Out
Catering for All Occasions
Dine in or take the taste of Italy to your home or office today! Our entire menu is available for both take-out and small event catering. Mama Mia's famous homemade old-world Sauces To Go are available by the Cup or Bowl to enjoy with your favorite pasta dishes at home for your convenience, as well.
DINNER
for
FOUR
$31.99
+tax
Take-out Trays Only • Includes Salad and Garlic Rolls
Choice of ONE of the following:
Chicken & Eggplant over Spaghetti
Chicken Marsala over Spaghetti
Chicken Piccata over Spaghetti
Spaghetti with Meatballs
Chicken Parmigiana over Spaghetti
Baked Ziti
Chicken Cacciatore over Spaghetti
Eggplant Parmigiana over Spaghetti
We enjoy serving our customers delicious meals prepared with care in our warm, family-friendly ambience. We the Mama Mia family look forward to sharing our passion for all things good with you and your family! Come on in. You're invited to our table!

If you are looking for delicious home-cooked Italian comfort food served with sincere friendliness in comfortable surroundings, we think you will enjoy Mama Mia Pie & Pasta. All menu items are carefully prepared with the finest and freshest ingredients daily with time-honored recipes. Our seafood arrives fresh daily and our meatballs are hand-rolled, seasoned, and oven-baked with care. All dough, marinara, pizza, Alfredo and pasta sauces are prepared from scratch daily, as well. Chef Tony incorporates old-world flavor and unique specialties such as fine imported sausage and fresh seasonal ingredients for a delicious unison of flavors for an experience unlike anything else. Buon appetito!